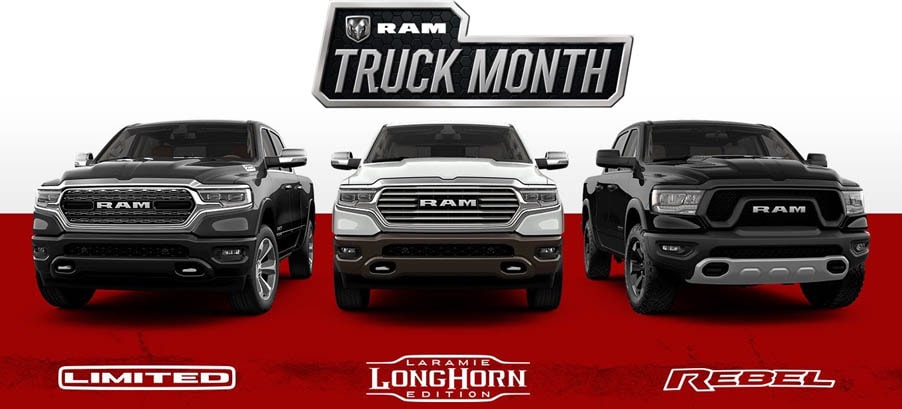 It's March ...
Ram Truck Month is here!!

   


Ellwood City, It's time to save on Ram Trucks at our Dealership!

If you are on the search for trucks for sale in Ellwood City, the Ram is the right truck and right deal for you!  It's just as good as Ram truck month right now with our new 2019 Ram trucks that must go!  We are  receiving 2020 Ram trucks and must make room!  Ram trucks are the right vehicle to get the job done!

Our truck dealership in Ellwood City has a huge selection of Ram trucks and used trucks for sale.  If you are trying to get the best deal around, start your search at Napleton Ellwood City, PA.  We have amazing deals on Ram trucks.  We have great lease deals on the Ram 1500 today! One of our product specialists would love to help locate the perfect Ram for you!

If you are searching for your next 4x4 or 4x2 pickup truck, a Ram truck test drive at our dealership is a must! If you currently drive a Ford F150 or Chevy Silverado, take a test drive of the new Ram 1500 or Ram 2500 and find out why so many customers choose Ram trucks!  Below you will find different models with links to our inventory of each model.  If you are unsure which Ram you would like click the Ram truck dealership inventory button above. 

 Act soon if you are interested in getting a great deal. These deals can't last long on such an awesome truck.  We have Ram truck informational pages if you have any questions, click the link below.
Ram 1500 information
Ram 2500 information
Ram 3500 information
Ram 4500 information

It's always a great time to buy a Ram truck, but today is like no other. Jump on your deal quick before somebody else gets it!  With new and used trucks for sale, you are sure to find something that suites your needs!

More Ram truck information for Ellwood City:

 


Ram Truck month is in March but, the deals don't stop there.  If you are shopping for a truck, our Ram truck deals are impossible to pass up!  Currently our 2019 Ram trucks Must go!





Local  RAM Dealer Discounts


 

Get a discounted rate on a new RAM 1500, 2500, 3500, 4500, 5500, or ProMaster. Napleton Ellwood City has amazing deals on Ram today! If you have any questions, fill out the form below.




Find Your Dodge RAM Pickup Truck Below