Batteries are making big news today. Battery powered cars, battery restrictions on what you can carry on an airplane, Smartphone batteries being "told" to throttle back on power! There's no getting around the fact that batteries are everywhere. They are even a crucial part of your new
Ellwood City Chrysler Jeep, Dodge and Ram
.
In today's connected society, Trucks, Cars and SUV batteries are more stressed than ever before. Between Smartphones, Tablets, GPS Receivers and MP3 players,
air filters
not to mention all the chargers that are popping up in the interiors of today's connected vehicles, they are all doing their part to shorten the life of the lowly battery under the hood.
The Owner's Manuals in your Ellwood City vehicle will typically say that even under the best conditions, they will last around four years. But in warmer temperatures, to expect even less.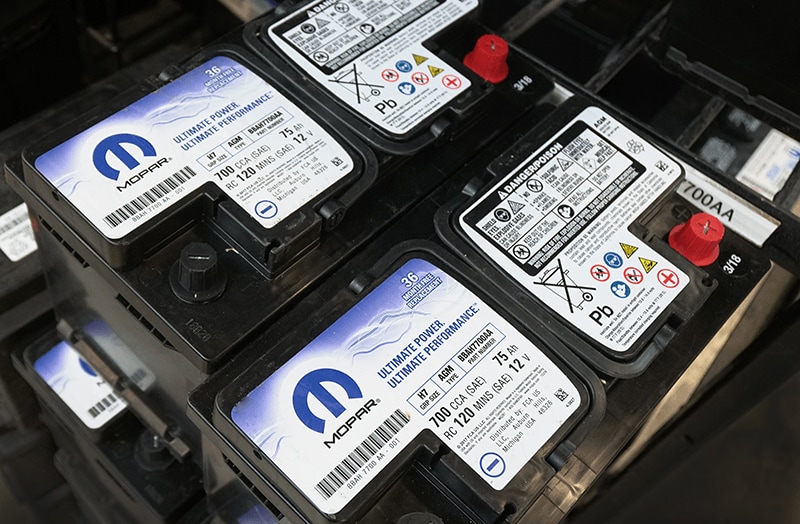 The battery included with your new Ellwood City vehicle is a vital piece of equipment that has a hand in nearly every operation of your car, truck or SUV. Without the proper amount of oomph, technically speaking of course, your vehicle could potentially become the world's largest paperweight.  
There are a few important considerations to remember that are crucial to purchasing a new batteries:    
•    Age: Like a newly baked loaf of bread, batteries are best when at their freshest. Most batteries will have a date code to tell you the date of manufacture. Usually best within the first six months, your Ellwood City service advisor can verify the date of manufacture for this new battery.
•    Cold Cranking Amps (CCA): This number tells of the battery's ability to start when the oil is thickest and the temperature is at 0-degrees Fahrenheit. We get kinda cranky on a cold winter morning. Imagine what your Ellwood City Jeep, Chrysler, Dodge or Ram feels like after spending the night in the freezing cold. Oh, back to CCA: the higher the CCA rating, the better the battery's starting power.
•    Reserve Capacity: The Reserve Capacity is the measure that tells you how long your vehicle can run in the accessory mode or if the alternator should fail. The higher the rating, the longer your battery will work without the benefit of the alternator.