Call Us Today for an Exclusive Internet Offer!
The Adventurous New Jeep Wrangler in Ellwood City
Are you ready to buy or lease a new Jeep Wrangler for sale? Great choice! The new Jeep Wrangler is extremely popular in Ellwood City, Pittsburgh, New Castle, Butler Country, and surrounding communities near Aliquippa, PA. And for a good reason.
Underneath the hood lies a powerful 3.6L V-6 engine that produces 285 horsepower and 260 lb.-ft. of torque. When properly equipped, the new Jeep Wrangler can tow up to 3,500 lbs. Add in the new Jeep Wrangler's four-wheel-drive system, and you've got the ultimate driving experience. We should also note that the new Jeep Wrangler comes available in 14 different trims, including the Jeep Wrangler Rubicon, Jeep Wrangler Sahara, and Jeep Wrangler 4Xe hybrid edition.
We're confident. With such a great variety, the new Jeep model is sure to please new car buyers. But don't just take our word for it. Discover why so many people are talking about our new Jeep Wrangler deals. Plan your next shopping trip at our local Ellwood City Jeep dealer conveniently located at 1000 Lawrence Ave Ellwood City, PA 16117-1852.
Jeep Wrangler For Sale Is Making Waves
The Ellwood City Jeep Wrangler is equipped with a massive 3.6L V6 engine along with a standard 285-hp and 8-speed transmission/6-speed manual. That's enough to get you through any kind of terrain right? Interior space will vary based on which trim you choose, but ultimately you will enjoy all that's on show here. The Wrangler near you has a distinct looking dashboard with round air vents and a stellar infotainment system. Show off this vehicle to your family and friends with the available nine-speaker Alpine® Premium audio system coupled with an overhead sound bar and all-weather subwoofer (552-watt amplifier).
Did you know that the Jeep Wrangler in Ellwood City has an available Trail Rail™ system organizer?
Just one of the many reasons to jump inside this beast today! It's imperative that you take advantage of Jeep Wrangler specials to save time and money.
A New Jeep Wrangler near you
There are 75 standard and available safety/security features on the Ellwood City Wrangler for sale. Quite the impressive isn't it? These features are in place to keep family and friends safe, and allow you to focus on the most important things. Quick access to emergency services, an available SiriusXM Guardian™, and the Vehicle Finder are all products of this new Wrangler near you. Join loads of people and drive home this amazing vehicle. So what are you waiting for? It's a great time to be an Ellwood City Wrangler owner and you can do this by taking advantage of Jeep Wrangler deals where they are. You can always come in for a test drive at Napleton Ellwood City. Link up with us here:
1000 Lawrence Avenue, Ellwood City, PA 16117-1852
and try out this new vehicle. Time is of the essence so come and enjoy this new Jeep Wrangler Ellwood City for sale!
For an exclusive offer, fill out the form on this page.
Scroll down to keep reading about the new Jeep Wrangler near you
.
Return To The Top
Jeep Wrangler Trims & Specs

| Model | Sport | Willys Sport | Sport S | Islander |
| --- | --- | --- | --- | --- |
| Engine | 3.6 V6 | 3.6 V6 | 3.6 V6 | 3.6 V6 |
| Transmission | 6-speed manual | 6-speed manual | 6-speed manual | 6-speed manual |
| Horsepower | 285 | 285 | 285 | 285 |
| Seating | 4 | 4 | 4 | 4 |
Ellwood City Jeep Wrangler Exterior
The ultra recognizable Jeep Wrangler in Ellwood City is making a lot of noise this year with improvements at every turn. Enjoy LED lights and available 33-inch off-road all-terrain tires. Want to finally see what this vehicle is all about? Look out for Jeep Wrangler specials.
Jeep Wrangler Ellwood City Performance
From its amazing off-road capabilities to its monstrous engine and horsepower, the Jeep Wrangler for sale is simply going to take you places with style. This multi-faceted vehicle gets better and better every year, so come on down to our Jeep dealership and experience greatness. 
Jeep Wrangler for Sale Interior
It's an interior design that will leave you speechless because the Ellwood City Wrangler is full of the latest technology. There has never been a better time to shop this vehicle and make the most of it. Jeep Wrangler deals await you.
Wrangler near you Safety
The new Jeep Wrangler has some important safety features that your family and friends more protected than ever. Use features like blind spot monitoring to check your surroundings and safely move into lanes. Visit our Jeep dealership in Ellwood City today. 
Return To The Top
Ellwood City Jeep Wrangler Exterior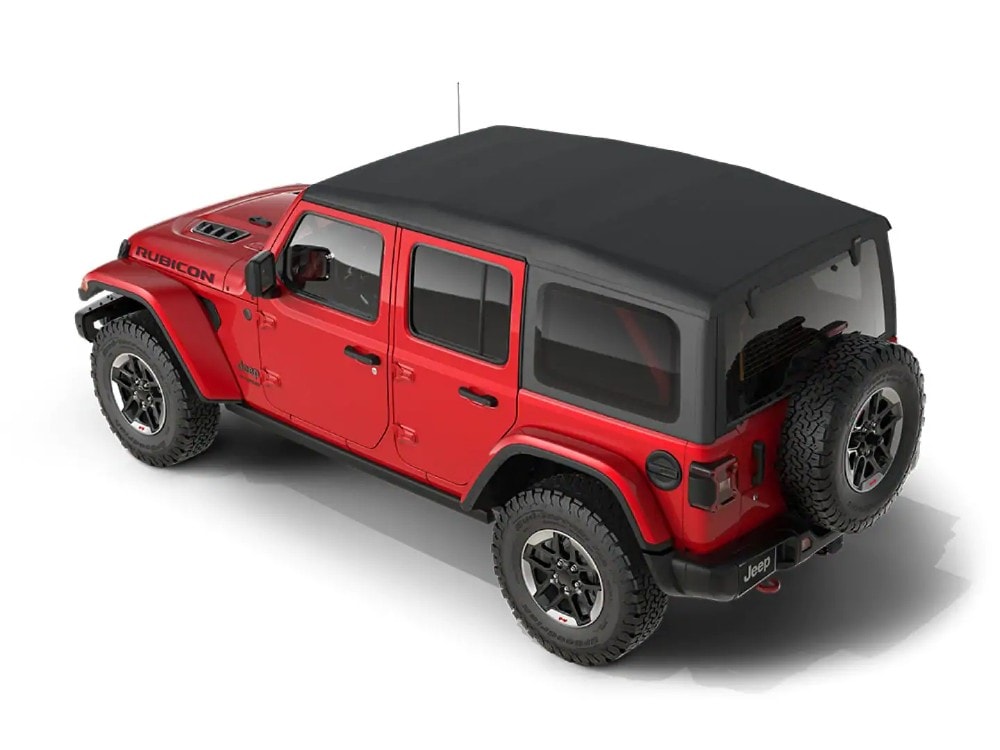 Wrangler Near You Exterior Features

The rugged and versatile Jeep Wrangler near you has some amazing exterior features that you are definitely going to be interested in. Choose between six "rooftop" options like the popular Sky One-Touch® Power Top or the Premium Tan Sunrider® Soft Top. Whatever your choice may be, the Ellwood City Wrangler has your back no matter what. While you're at it, look for Jeep Wrangler deals.
Six Rooftop Options

Zipperless Sunrider® Soft Top
Premium Black Sunrider® Soft Top
Premium Tan Sunrider® Soft Top
Black Freedom Top® Three-Piece Hardtop
Body-Color Three-Piece Hardtop
Sky One-Touch® Power Top

Available Premium LED Lighting Group

Signature Reflector Headlamps
Fog Lamps
Daytime Running Lamps
Vibrant Taillamps

Array of All-Terrain Tires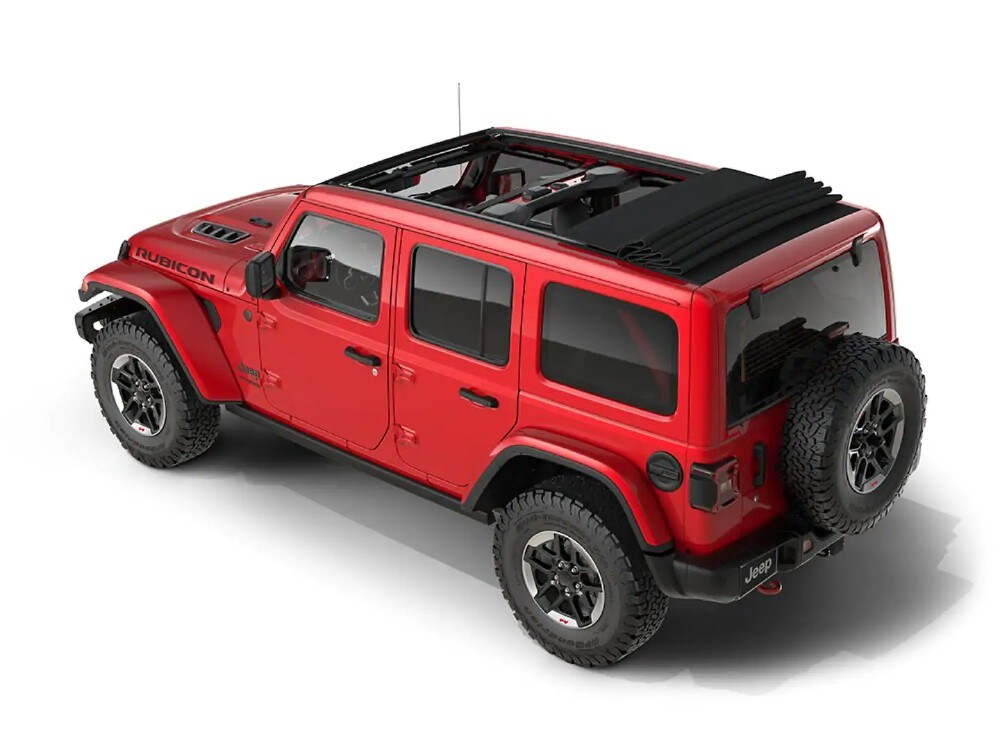 Jeep Wrangler for Sale Specs

A lot of hard work and dedication went into the Wrangler for sale and it certainly shows. It doesn't matter if you are coming from Beaver Falls, New Castle, or Zelienople, because this vehicle will give you more than you bargained for. Check out some important specs on the Ellwood City Jeep Wrangler below. Make the right decision and visit us today. Remember that Jeep Wrangler specials are around to help you.
Wheelbase: 96.8-inches
Length: 166.8-inches
Height: 73.6-inches
Width: 73.8-inches
Passenger Volume, cu ft: 104
Front Leg Room: 41.2
Rear Leg Room: 35.7
Turning Radius: 17.3
Jeep Wrangler in Ellwood City Performance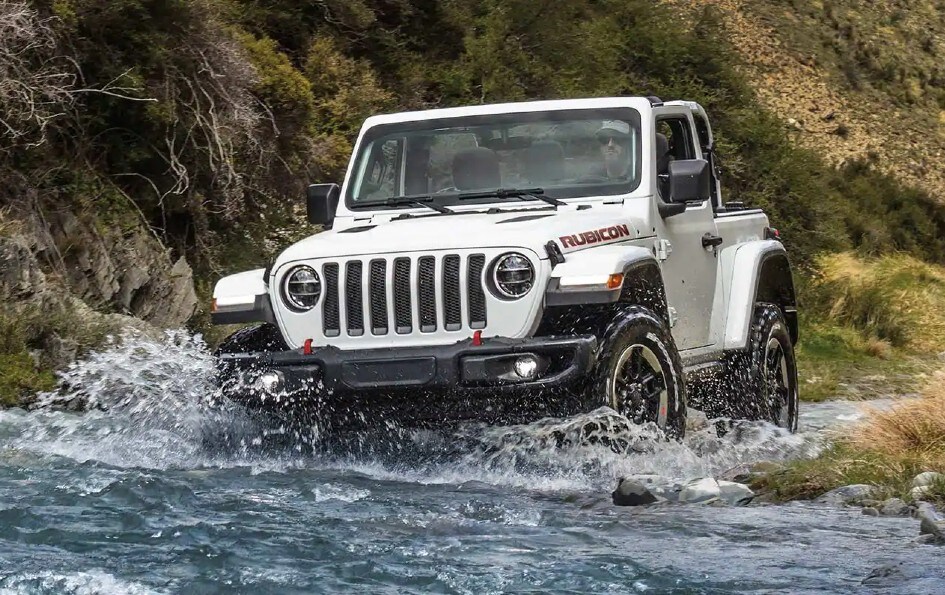 Best Jeep Wrangler Deals - Engine
By taking advantage of Jeep Wrangler deals, you can experience the might and power that this vehicle has to offer. Choose between four different engines which include: 2.0L Turbo  Engine w/ ESS, 3.0L Ecodiesel Engine, and the 3.6L Penstar® V6 w/ Etorque w/ ESS. The Wrangler in Ellwood City was simply built to withstand a multitude of terrains especially when it comes to traction, water fording, maneuverability, articulation, and ground clearance. Find out more below and visit our Jeep dealership today.
Engine: 3.6L V6
Horsepower: Up to 285 hp
Torque: Up to 442 LB-FT
Towing Capacity: 3,500 lbs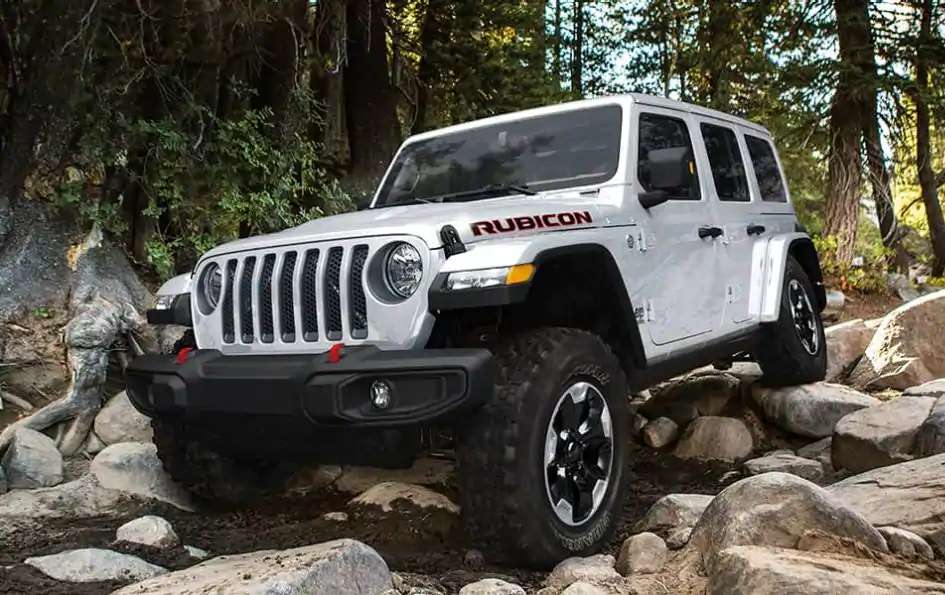 Jeep Wrangler Specials - More Engine Info
There has never been a better time to jump inside this vehicle, and you can do that by looking for Jeep Wrangler specials as they come. Wouldn't it be nice to finally take command on the road? Enjoy this vehicle by choosing one of 12 trims which include both 6-speed manual or 8-speed transmissions. Pick the Wrangler in Ellwood City today and never look back!
Transmission: 6-speed manual/8-speed automatic
Recommended Fuel: Regular Unleaded
Fuel Tank Capacity: 21.5 gallons
Return To The Top
Interior Ellwood City Wrangler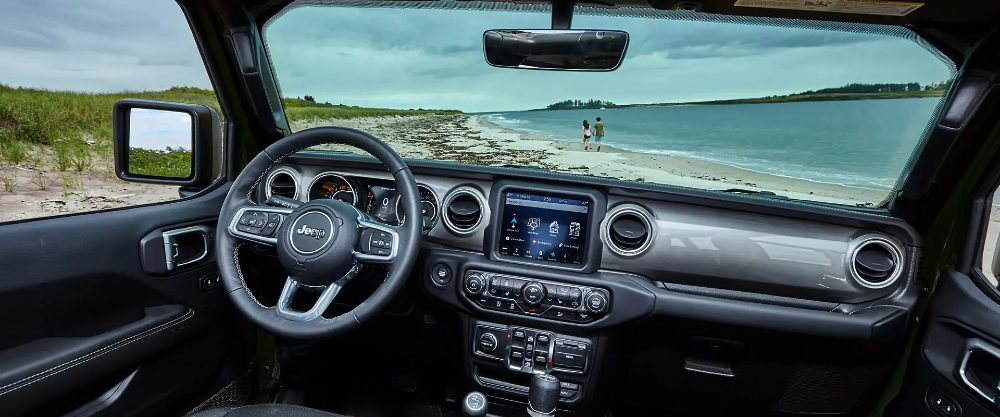 Jeep Wrangler Near Me - Technology
Ever envisioned a "Jeep Wrangler near me", loaded with great technology features and an eye for the future? Look no further because this vehicle packs Apple CarPlay/Android Auto and even comes built with Amazon Alexa, which allows you to check fuel levels and even start you engine. These are just a few of many features that make the Ellwood City Wranger one of a kind. Join loads of people today and procure this amazing Jeep!
Forward-Facing Off-Road Camera
Apple CarPlay/Android Auto
UConnect® 4C NAV
Available Built-in Amazon Alexa

Check fuel levels
Start your engine

4G LTE Wi-Fi Hotspot
8.4-inch touchscreen (covers up to eight devices within 50 foot radius)
UConnect® Services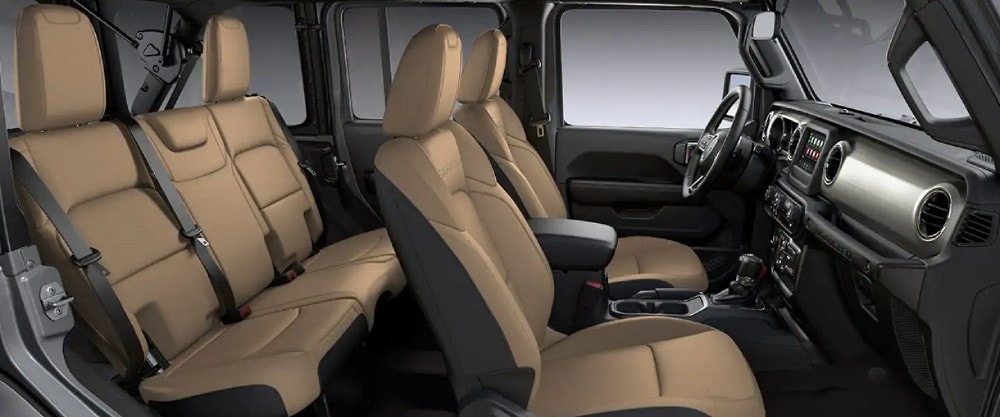 For Sale Wrangler Convenience Features
A for sale Jeep Wrangler is just what you need at this time, because it's loaded with some very enjoyable convenience features. Get excited about an available Trail Rail™ System and available Dual-Zone Automatic Temperature Control. Visit our Jeep dealership today and test drive this vehicle.
Available Trail Rail™ System
Weather-resistant removable carpet
Available heated front seats/heated steering wheel
Available Dual-Zone Automatic Temperature Control
Available heated exterior mirrors
Return To The Top
Safety Ellwood City Jeep Wrangler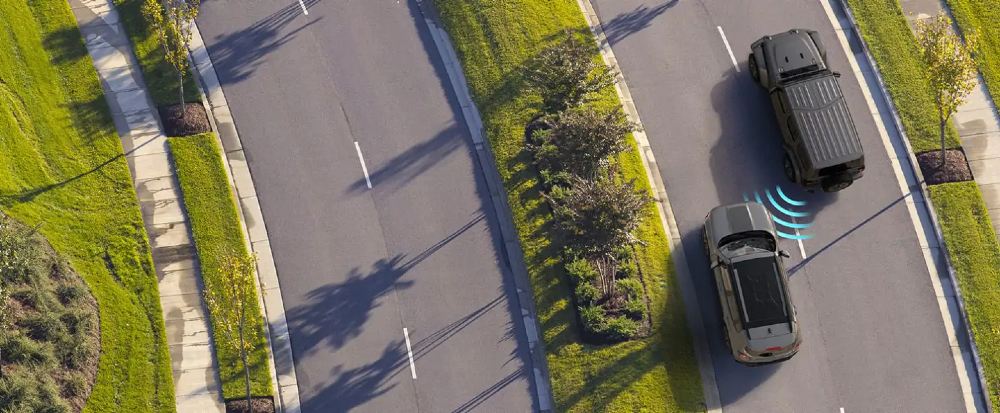 Deals Jeep Wrangler - Standard Safety
It's no surprise that this vehicle has some outstanding safety features, and you can revel in them through deals Jeep Wrangler today. Enjoy features like blind spot monitoring and adaptive cruise control that help guide you on the road. The Ellwood City Jeep Wrangler is one of a kind so shop one today!
Blind Spot Monitoring
Forward Collision Warning
Adaptive Cruise Control
Automatic High Beam Headlamps
Parksense® Rear Park Assist System
Parkview Rear Backup Camera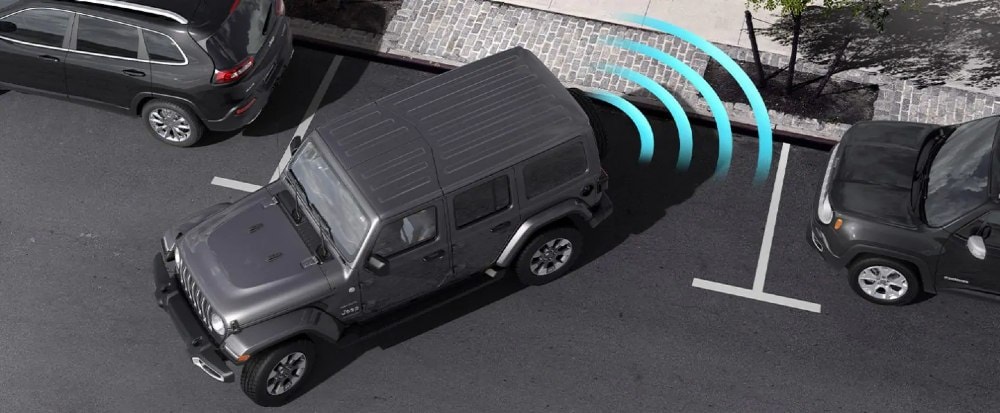 Specials Jeep Wrangler - Advanced Safety
Ever thought about "specials Jeep Wrangler" before? Well it's the best way to experience the Jeep® Brand technology that gives you an extra eye on your vehicle. We hope that you become even more enthralled on the Ellwood City Wrangler, so keep on reading.
Jeep® Brand Technology

Keep Your Hands On The Wheel (Bluetooth® connectivity)
Your Own Watch Dog (installed theft alarm system)
Help When You Need It (available SOS button for emergency services)
Unforgettable (vehicle finder helps you locate your Jeep)
🔥Popular Jeep Wrangler Questions!
Jeep Wrangler Free Test Drive Near me
What a fantastic time to shop the new Jeep Wrangler for sale. Come visit us at our Jeep dealership and experience this great car for yourself. We know that you have read all there is to do with the Ellwood City Jeep Wrangler near you, so what are you waiting for? Here at Napleton Ellwood City serving Beaver Falls, Butler County, New Castle, New Brighton, Cranberry Township, Youngstown, or Columbiana PA and surrounding areas, we encourage you to try out this amazing Jeep Wrangler for sale.Return To The Top
Additional Jeep Wrangler Info
The Ellwood City Jeep Wrangler Rocks! Nothing Beats The Power And Capability That You Get From This SUV

The new Jeep Wrangler available for sale at
Napleton Jeep Ellwood City, PA
is nothing like your typical sport utility vehicles. From off-road 4x4 capabilities to 4x2 road handling, this monstrous midsize SUV does it all. We're talking rock climbing, mud slinging, and water fording.
Escaping to Western Pennsylvania's great outdoors has never been this exciting. In fact, if you're planning on taking an SUV trip through Beaver Falls, New Castle, Aliquippa, or Butler County, we recommend you consider driving the Ellwood City Jeep Wrangler for sale near you.
With more power and capability, the new Jeep Wrangler can handle the toughest roads. And oh yeah, mother nature doesn't stand a chance. Equipped with enhanced braking features, all-season tires, and the Best-in-Class ground clearance, this Jeep is tough enough to go anywhere. And what's more, this Jeep Wrangler for sale is designed to run longer and stronger.

Better yet, fill out the free online form and take advantage of the ultimate Ellwood City Jeep Wrangler deal! Don't miss your chance to get your hands on the best SUV for you! Fill out the free online form and one of our experienced Jeep specialists will get in touch with you. .


If you want to learn more about the all-new rugged Jeep Wrangler, keep reading our SUV review below.

Off road is a different story with the Jeep Wrangler. You don't have to worry about getting stuck in the mud… or getting stranded on those tough trails. You're not afraid of rock climbing, or slick roads. Just simply shift on your 4 Wheel Drive when you're in a tight spot, and let your Jeep Wrangler do the work.

You've got twice the traction. And twice the performance. You can go through treacherous road conditions with confidence. The Jeep Wrangler has all the deluxe standard features you expect:


Award-winning 3.6L Pentastar V6-Engine kicking out 285 horsepower and 260 lb. -ft. of torque for tremendous low-speed crawling
Precise 6-speed manual transmission to enhance your off-road capabilities
Power Steering with precise handling
Hydraulic Assist Brake boosters
Best in class ground clearance to protect Wrangler's under-body
Up to 3,500 LBs of towing capability
Hill Start Assist when climbing up-hill
Ample storage space with adjustable folding seats

When you choose Jeep Wrangler you get all of the standard safety features plus some you won't find in other SUVs. For instance:
Standard advanced airbags to protect you from crash impact severity
Electronic Stability Control gives you an extra hand whenever you lose control of the wheel
Electronic Roll Mitigation applies braking force to help you keep all four wheels on the ground
All Speed Traction Control offering you more traction at any speed
Four Wheel Antilock-Braking System enhances vehicle control and decreases stopping distances on both dry and slippery surfaces.
Sentry Key Anti-Theft Immobilizer makes it virtually impossible for anyone without a valid key to drive your vehicle
Remote Keyless Entry System enables you to unlock or lock the new Jeep Wrangler  from 50 feet away
Trailer Sway Control stops crosswinds and traffic from swaying your payload.
Come test drive the new Jeep Wrangler today at Napleton's Ellwood City Chrysler Dodge Jeep Ram today. We are located at 1000 Lawrence Avenue, Ellwood City, PA 16117.