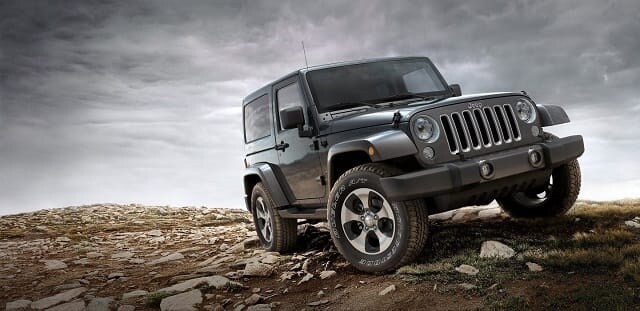 Find Best Jeep Wranglers Deals Near Ellwood City
The 2020 Ellwood City Jeep Wrangler Rocks! Nothing Beats The Power And Capability That You Get From This SUV

Ellwood City Jeep Wrangler
is nothing like your typical sport utility vehicles. From off-road 4x4 capabilities to 4x2 road handling, this monstrous midsize SUV does it all. We're talking rock climbing, mud slinging, and water fording.
Escaping to Western Pennsylvania's great outdoors has never been this exciting. In fact, if you're planning on taking an SUV trip through Beaver Falls, New Castle, Aliquippa, or Butler County, we recommend you consider driving the Ellwood City Jeep Wrangler for sale near you.
With more power and capability, this legendary wagon can handle the toughest roads. And oh yeah, mother nature doesn't stand a chance. Equipped with enhanced braking features, all-season tires, and the Best-in-Class ground clearance, this vehicle is tough enough to go anywhere. And what's more, this Jeep model is designed to run longer and stronger.

With great low maintenance and incredible loyalty, this off-road machine comes backed with a powerful warranty. You're going to love how much further the new Ellwood City Jeep Wrangler can take you. Come experience the new Jeep Wrangler today at our local Ellwood City Jeep dealership located at 1000 Lawrence Avenue, Ellwood City, PA 16117.
Better yet, fill out the free online form and take advantage of the ultimate Ellwood City Jeep Wrangler deal! Don't miss your chance to get your hands on the best SUV for you! Fill out the free online form.

If you want to learn more about the all-new rugged Jeep Wrangler, keep reading our SUV review below.

Off road is a different story with the 2020 Jeep Wrangler. You don't have to worry about getting stuck in the mud … or getting stranded on those tough trails. You're not afraid of rock climbing, or slick roads. Just simply shift on your 4 Wheel Drive when you're in a tight spot, and let your Jeep Wrangler do the work.

You've got twice the traction. And twice the performance. You can go through treacherous road conditions with confidence. The 2020 Jeep Wrangler has all the deluxe standard features you expect:


Award-winning 3.6L Pentastar V6-Engine kicking out 285 horsepower and 260    lb. -ft. of torque  for  tremendous low-speed crawling
Precise 6-speed manual transmission to enhance your off-road capabilities
Power Steering  with precise handling
Hydraulic Assist Brake boosters
Best in class ground clearance  to protect Wrangler's under-body
Up to 3,500 LBs of towing capability
Hill Start Assist  when climbing up-hill
Ample storage space with adjustable folding seats

You even get all of the standard safety features plus some you won't find in other SUVs. For instance:
Standard advanced airbags to protect you from crash impact severity
Electronic Stability Control gives you an extra hand whenever you lose control of the wheel
Electronic Roll Mitigation  applies braking force to help you keep all four wheels on the ground
All Speed Traction Control offering you more traction at any speed
Four Wheel Antilock- Braking System enhances vehicle control and decreases stopping distances on both dry and slippery surfaces.
Sentry Key Anti-Theft Immobilizer makes it virtually impossible for anyone without a valid key to drive your vehicle
Remote Keyless Entry System enables you to unlock or lock the new Jeep Wrangler  from 50 feet away
Trailer Sway Control stops crosswinds and traffic from swaying your payload.
Fill out the form below for:
Make an appointment to stop by
Schedule a test drive

Risk Free Quote
Get current lease specials
Get current offers and savings

[Limited Time Offer] Sign Up Today! Get An Exclusive Discount On An All New Jeep Wrangler