Meet The New Jeep Gladiator For Sale in Ellwood City, PA 
The very latest member of the Jeep family and definitely a modern take on a historic classical vehicle dating back to 1947, the new Jeep Gladiator at Napleton Jeep of Ellwood City, is the long-awaited rebirth of the Jeep Truck. What? Jeep made trucks? They surely did, from 1962 to 1988. Previously built on the Jeep Wagoneer chassis from those same years, it, like its legendary brother, the Jeep Wrangler, was used to transport troops, serve as canteens, ambulances and more.
In the case of the new Jeep Gladiator, it starts with the Jeep Wrangler and heads north from there. Featuring all-wheel-drive technology, a choice of powertrains, and configurations, it's the go-anywhere, do anything, tackle any job vehicle that will only continue to expand on the legendary heritage of the Jeep brand.
The New 4x4 Jeep Gladiator Pickup Truck in Ellwood City Is Making Waves
Able to carry up to five, with extra under-rear-seat storage space and room in the pickup bed, this new Jeep Gladiator is probably one of the largest capacity vehicles in the lineup. Add in legendary Jeep 4x4 capability, and it adds up to a potent package. How potent, you ask? This Jeep can make bad roads feel good, and at the same time, ford a waterway up to 30 inches deep. Bad weather? That's kid's stuff. What else, have you got? Whatever it is, your Jeep Gladiator can handle it.
And with the new Jeep Gladiator, you are giving up nothing and in fact, gaining a lot. That includes best-in-class towing and 4x4 payload capacity. Also on board of the Jeep Gladiator, available Command-Trac and Rock-Trac 4x4 systems, next-generation Dana axles, Tru-Lock electric front- and rear-axle lockers, Trac-Lok limited slip differentials, a segment-exclusive sway-bar disconnect and 33-inch off-road tires.
Conquer Ellwood City's Toughest Roads With The New Jeep Gladiator in Ellwood City 
Available in four trim levels ranging from Sport, Sport S, Overland and Rubicon models, you can dress up or dress down your new Jeep Gladiator up as you see fit.
One thing is for certain: The Jeep Gladiator always remembers that Jeep is its first name. It still boasts of 11.1 inches of ground clearance and an approach angle of 43.6 degrees, followed by a departure angle of 26 degrees. And that doesn't even take into account the 2.72:1 low range gear ratio or the 77.2:1 Jeep Gladiator Rubicon crawl ratio, when equipped with the optional automatic transmission.
Selec-Speed Control is standard with the eight-speed automatic transmission of the Jeep Gladiator. A push of the dashboard-mounted button is all that's required so that the driver can concentrate on steering the Jeep downward at speeds ranging from 1 to 5 mph with simple input from the AutoStick Shift Control. That way, your rock scaling, along and over any obstacle, will be easily accomplished and controlled.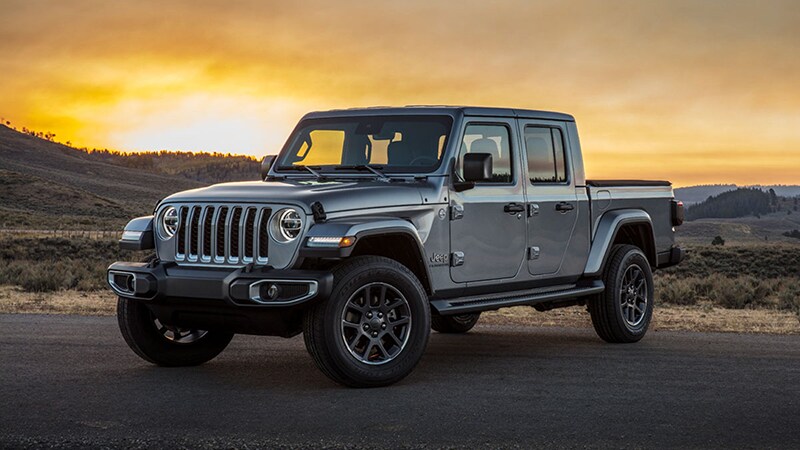 Ellwood City Jeep Gladiator Deals, Specials, and Offers on New 4x4 Pickup Trucks 

2022 Jeep Gladiator Specs & Features
 Engine

3.6L V6 24V VVT Engine 

 Horsepower

285-hp
Torque

260  lb.-ft. of torque

Maximum Towing Capacity 
4,000 lbs.  

★★★★★ 2022 Jeep Gladiator Reviews
Limited Time! Shop Amazing Jeep Gladiator Deals

Return To The Top
Ellwood City Jeep Gladiator - Exterior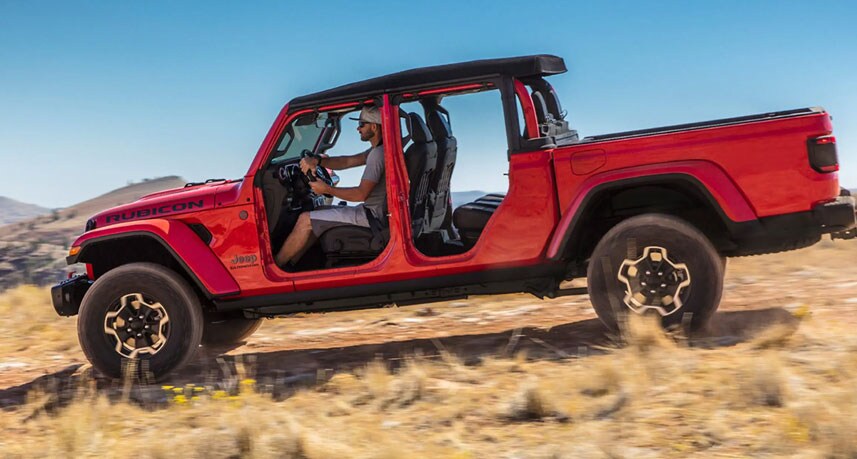 Jeep Gladiator Near You Exterior Features
Jeep Gladiator features include iconic round headlamps, seven-slot keystone grille, trapezoid wheel flares, removable doors, exposed hinges with the Torx tool-bit size stamped into it, a fold-down windshield, and innovative removable tops. Available features include:
Trail Rail System
Tonneau Cover
Weatherproof Power Outlet
33-inch all-terrain tires
Zipperless Sunrider Soft Top
Black Freedom Top Hardtop
Red Tow Hooks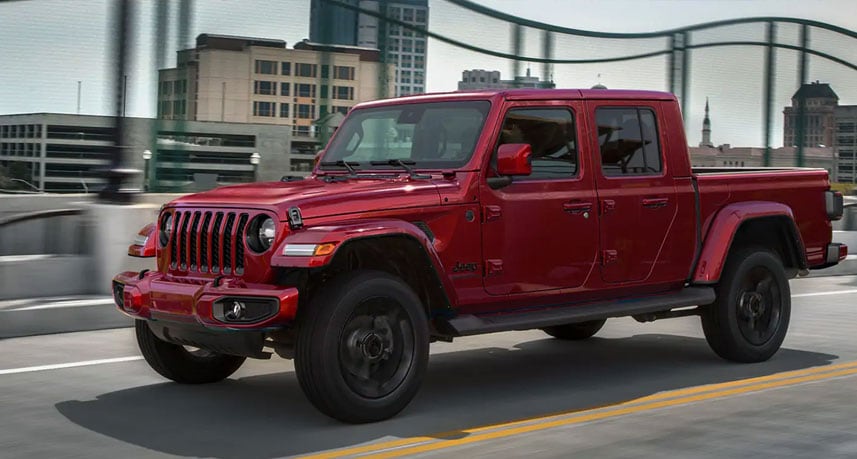 Jeep Gladiator Pickup Truck Dimensions
The new Jeep Gladiator is generously proportioned to fit all of your demands. Whether you're looking for more ground clearance, a wider wheelbase, or more cargo room, the new Jeep Gladiator is an excellent choice. See dimensions listed below:
Exterior Length 218"
Exterior Body Width 73.8"
Wheelbase 137.3"
Pickup Box Cargo Length 60.3"
Pickup Box  Minimum Width 44.8"
Pickup Box Cargo Volume 35.5 cu.-ft.
Return To The Top
Ellwood City Jeep Gladiator - Performance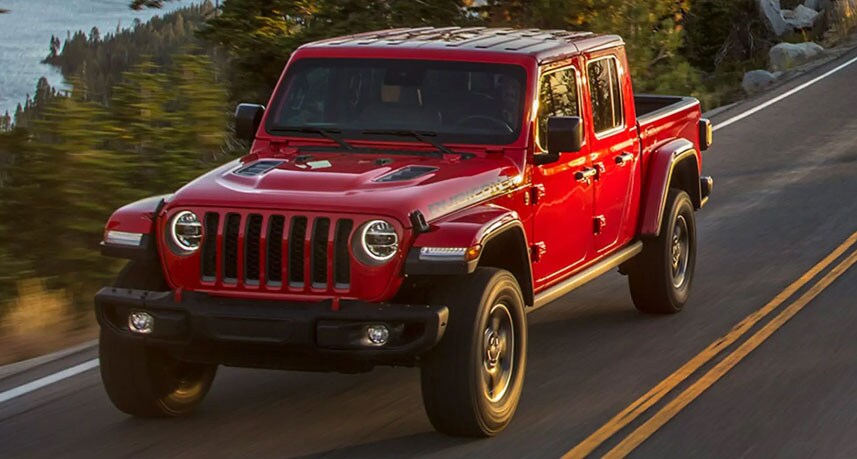 Jeep Gladiator Engine Lineup
The new Jeep Gladiator pickup truck series comes available with one of two V-6 engines:
Jeep Gladiator's 3.6-liter Pentastar V-6 engine with ESS delivers 285 horsepower and 260 lb.-ft. of torque and is engineered to provide a broad torque band. A six-speed manual transmission is standard and a TorqueFlite eight-speed automatic transmission is optional
Gladiator will offer the 3.0-liter EcoDiesel V-6 engine, rated at 260 horsepower and 442 lb.-ft. of torque, with ESS
Gladiator models, equipped with the 3.6-liter Pentastar V-6 engine, feature up to 1,700 pounds of payload and up to 7,650 pounds of towing capacity with the available Max Towing Package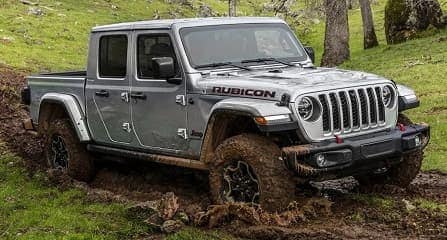 Jeep Gladiator Four-Wheel Drive Systems
Like most Jeep vehicles, the new 2022 Jeep Gladiator offers excellent road handling capabilities. Available Four-Wheel Drive systems include:
Sport and Overland models include the Command-Trac NV241 part-time, two-speed transfer case, which features a 2.72:1 low-range gear ratio. In addition, an optional Trac-Lok limited-slip rear differential provides extra torque and grip in low-traction environments, such as sand, mud or snow
The Gladiator Rubicon model features the Rock-Trac NV241OR two-speed transfer case with a 4.0:1 low-range gear ratio. 
Gladiator offers a Selec-Trac two-speed transfer case with full-time four-wheel drive and a 2.72:1 low-range gear ratio across the lineup. This full-time two-speed transfer case is intuitive and allows the driver to set it and forget it, while constantly sending power to the front and rear wheels
Return To The Top
Ellwood City Jeep Gladiator - Interior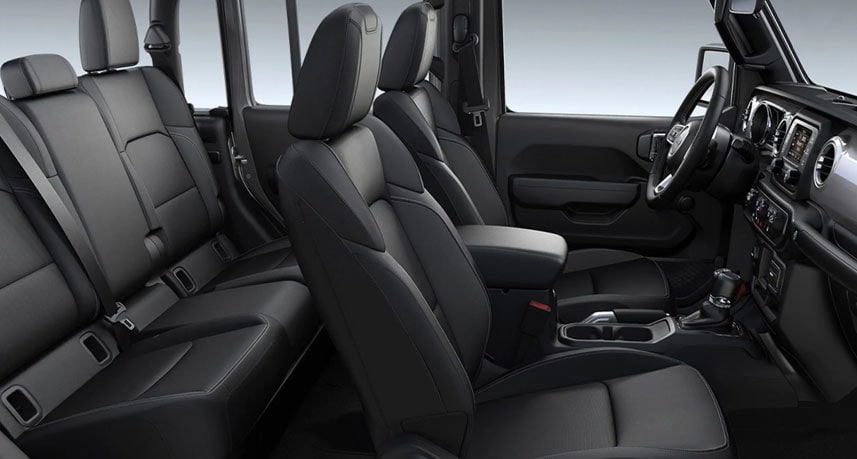 Jeep Gladiator Seat Trims
Inside, the new Jeep Gladiator can hold up to five adult passengers comfortably. The Jeep Gladiator also comes standard with a 6-way adjustable driver seat and a 60/40 split-folding second-row seat. The Jeep Gladiator also comes available with several different trims, including:
Heated Front Seats

Leather-Wrapped Steering Wheel

Leather-Trimmed Bucket Seats

Rubicon Cloth Bucket Seats

Quilted Nappa Leather-Trimmed Bucket Seats

Strata Emboss Cloth

Ferndale Premium Cloth

Mckinley Leather Trim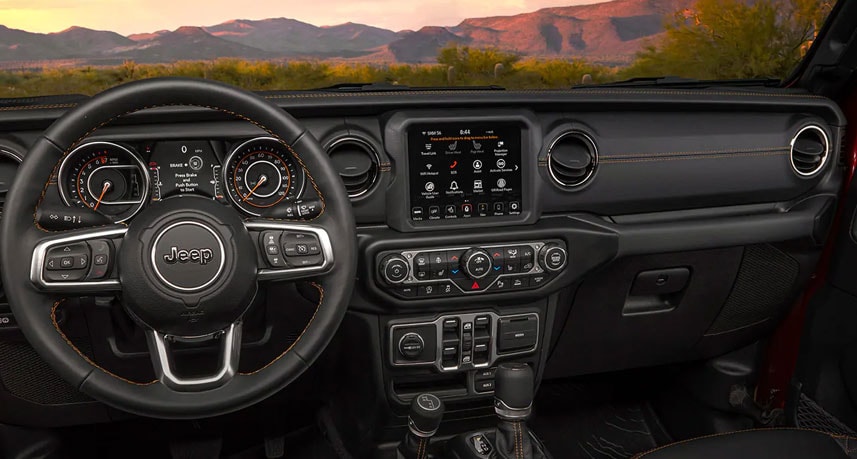 Jeep Gladiator Infotainment System
Need more technology? Elevate your standards with the new Jeep Gladiator 4x4 pickup truck. Inside, you'll find a 5-inch touchscreen display, an 8-speaker audio system, Hands-Free Bluetooth Technology, and a steering wheel-mounted with audio controls. Available features include: 
Uconnect 4 with 7.0-inch Touchscreen

Uconnect 4C Nav with 8.4-inch Display

Sirius XM

Alpine Premium Audio System

GPS Navigation

Wireless Bluetooth Speaker

Apple CarPlay

Android Auto
Return To The Top
Ellwood City Jeep Gladiator - Safety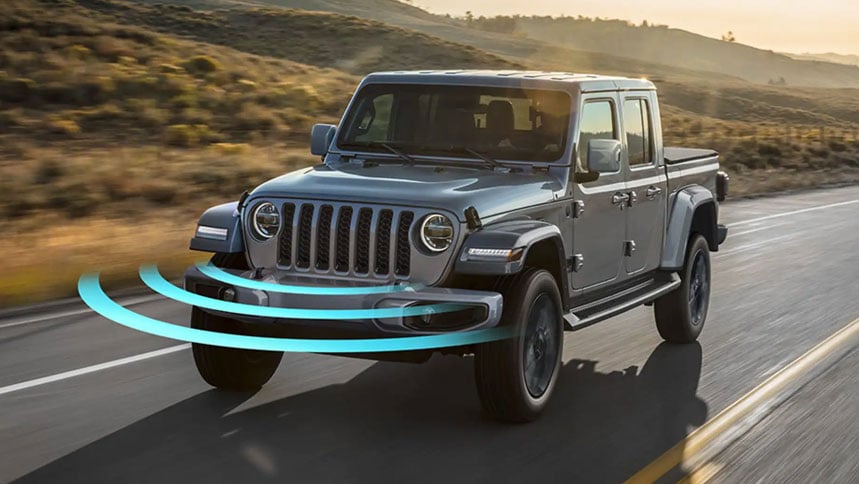 Jeep Gladiator Driver Assistance Technology
BLIND SPOT MONITORING

Rear Cross Path Detection

ADAPTIVE CRUISE CONTROL WITH FULL STOP

FORWARD COLLISION WARNING WITH ACTIVE BRAKING

PARKSENSE® REAR PARK ASSIST

PARKVIEW® REAR BACK UP CAMERA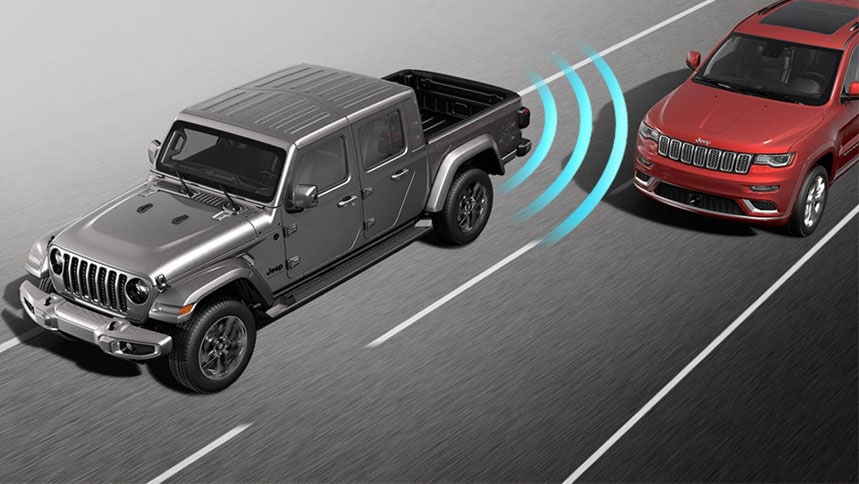 Jeep Gladiator Passive Safety Features
Electronic Roll Mitigation
Electronic Stability Control
Advanced Airbag Systems
Traction Control
Hill-Start Assist
Return To The Top
Jeep Wrangler Trims & Specs

| Model | Sport | Sport S  | Overland  | Mojave  | Rubicon  |
| --- | --- | --- | --- | --- | --- |
| Engine | 3.6 V6 | 3.6 V6 | 3.6 V6 | 3.6 V6 | 3.6 V6 |
| Transmission | 6-speed manual | 6-speed manual | 6-speed manual | 6-speed manual | 6-speed manual |
| Horsepower | 285 | 285 | 285 | 285 | 285 |
| Seating | 5 | 5 | 5 | 5 | 5 |
🔥Popular Jeep Gladiator Questions!
Yes. The Jeep Gladiator is a good car. This midsize truck offers plenty of power, capability, and utility. Plus it can hold up to five passengers. Drivers will find this truck to be reliable on and off-road.

One of the most impressive things about the Jeep Gladiator is its off-road handling capabilities. For the off-road enthusiast, the Jeep Gladiator Rubicon is fun to drive through the mud and rocky terrain. However, if you're planning to take a trip through the deserve, the Jeep Gladiator Mojave would be our first choice. While the Jeep Gladiator Mojave can handle rocks better than most trucks, it's built to handle higher-speed desert playtime rather than low-speed rock crawling like the Rubicon. 
One of the biggest differences between the Jeep Gladiator EcoDiesel engine and the gas powered V-6 engine is that the EcoDiesel engine comes comes standard with more torque. The new Jeep Gladiator V6 engine produces 260 lb.-ft. of torque, and the EcoDiesel V-6 engine generates 442 lb.-ft. of torque. 
The Jeep Gladiator comes available with two 4x4 Systems: Command-Trac 4x4 System and Rock-Trac 4x4 System.

Yes. The Jeep Gladiator comes standard with a Selec-Terrain management system for snow, mud, rocks, and, sand.

The Jeep Gladiator can tow up to 7,650 lbs with a 3.6L V6 Engine, and  6,500 lbs with a 3.0L Ecodiesel V6 Engine.

Additional Jeep Gladiator Information 
Return To The Top
Jeep Gladiator Exterior Design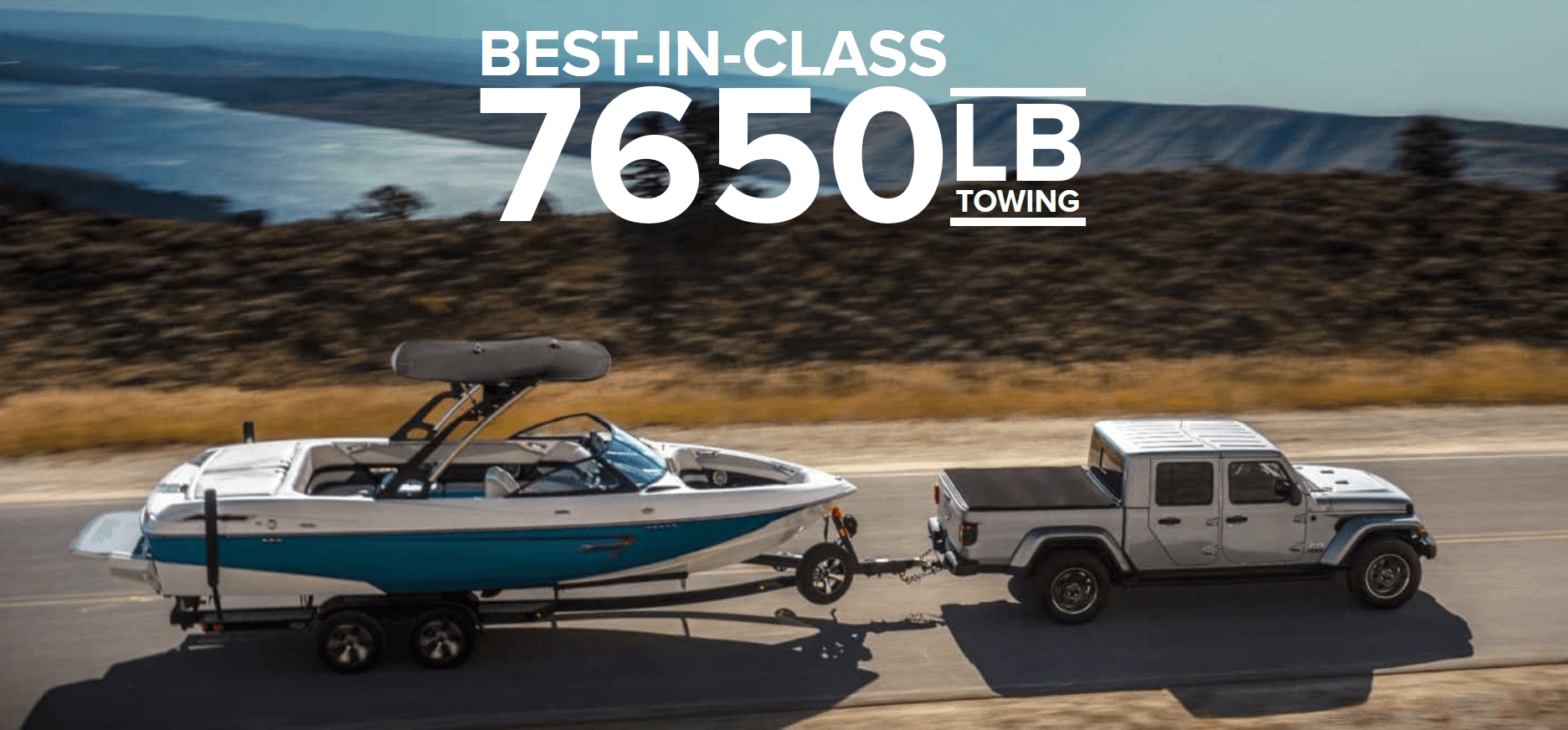 With the new Jeep Gladiator's modern design still holds true to the original. There's a modified version of the traditional seven-slot Jeep grille, this time made larger for better cooling and gently swept back for enhanced aerodynamics. Flanking the grille on the Jeep Overland and Jeep Rubicon models are available LED headlamps and fog lamps that project crisp white lighting. An added bonus with the LED headlamps are the halo-style daylight running lights for a stylish look that is unmistakably Jeep.
At the rear, traditional Jeep square taillights with available LED lighting flank both sides of the three-position tailgate which is damped and able to stop in three different positions. To keep items secure, the Jeep Gladiator has a power-locking tailgate lock.
New-age high-strength aluminum doors, hinges hood, fenders, magnesium swing gate and windshield frame do their part to cut weight and at the same time improve fuel economy of the Jeep Gladiator. The doors feature the Torx bit tool size stamped directly onto the hinge for a no-questions-asked answer to what is the proper tool size needed to remove them. A toolbox with the proper Torx bits to lower the windshield and remove the doors is provided as a standard piece of equipment with the new Jeep Gladiator.
Return To The Top
Jeep Gladiator Interior Features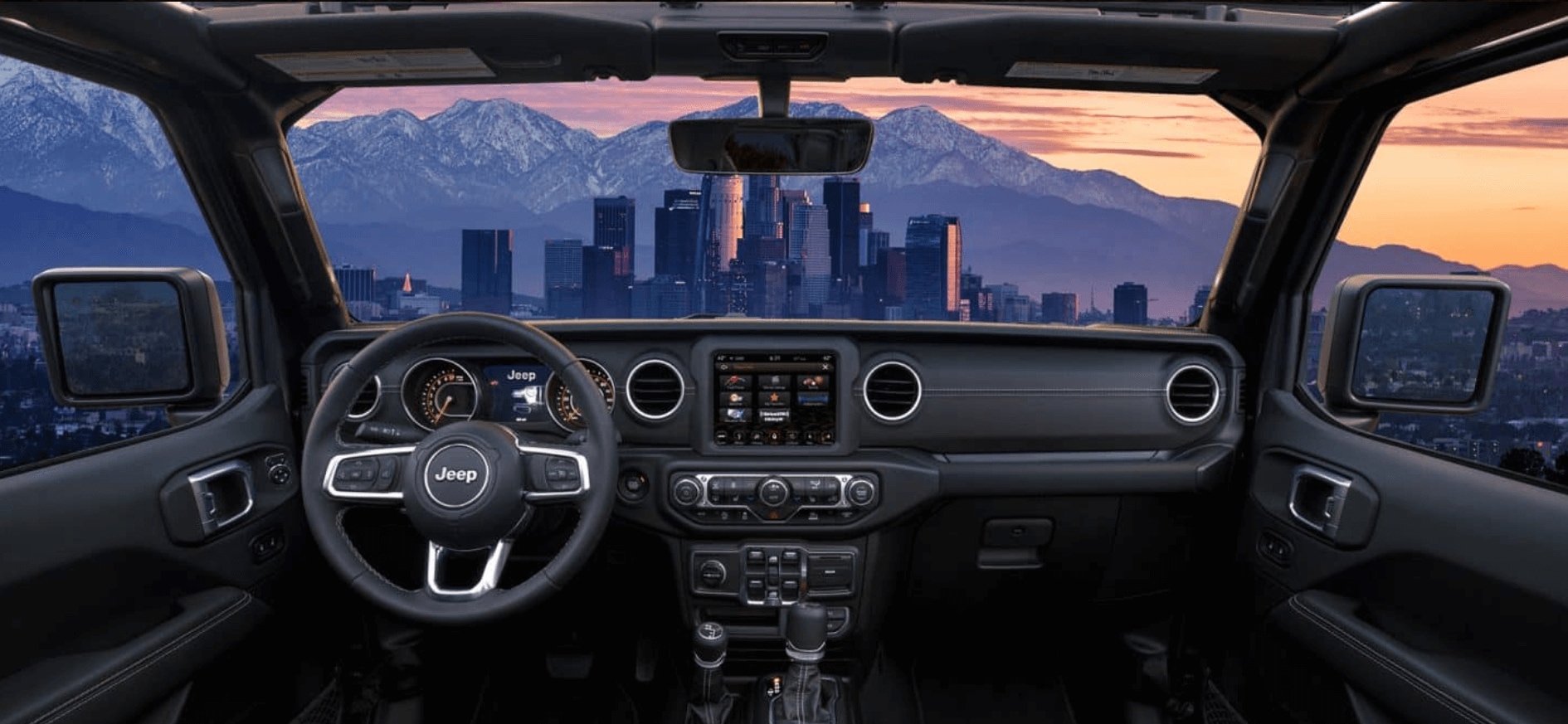 The interior of the new Jeep Gladiator, available at Napleton Jeep of Ellwood City, combines authentic Jeep styling with added comfort, improved technologies and intuitive controls. The center stack appears as it would on a vintage Jeep but with a totally modern touch. Speaking of touch, soft touch materials are used throughout, including the hand-wrapped instrument panel with functional accessory knobs, media charging and connectivity ports and an engine Stop/Start pushbutton of the Jeep Gladiator.
A choice of leather or cloth contoured seats are included and feature adjustable side bolsters and lumbar support. Those seats, in-turn flank the center console which is home to the gear shift selector, the transfer case and parking brake. And just to remain perfectly authentic, metal-plated accent parts and real bolts are featured on the shifter of the Jeep, grab handles and to frame the infotainment screen with genuine construction methods.
While on the subject of seating, the rear seat in the new Jeep Gladiator at Napleton Jeep of Ellwood City, is an exercise in versatility. The seating bottoms fold up, theater-style, with storage space underneath. They also fold down in a 60:40 configuration for access to behind-seat-storage, and include durable mesh pockets, and available locking storage bins to extend the storage versatility of the Jeep Gladiator.
A standard 3.5-inch or available 7-inch instrument thin-film transistor information display outfits the driver side instrument panel. This optional larger screen allows the driver to configure it more than 100 different ways to constantly monitor the operations of their Jeep Gladiator.
While a 5.0-inch touchscreen is standard, a 7.0- or optional 8.4-inch touchscreen are also available to control the fourth-generation Uconnect system. It's now the largest display in any Jeep. Two USB-A ports and one USB-C port reside in the front while two more are in the rear, along with an available 115-volt AC outlet, depending on the appropriate trim levels of the Jeep.
Return To The Top
Jeep Gladiator Powertrains

Two very capable powerplants are available for your new Jeep Gladiator from Napleton Jeep of Ellwood City. First available is the standard, and award-winning 3.6-liter Pentastar V6 engine. Used throughout the Fiat-Chrysler Automobile (FCA) family, it offers legendary power and reliability, along with 285 horsepower and 260 lb-ft of torque. All Gladiators are complete with an all-new six-speed manual transmission. It can be replaced by an available 8-speed automatic transmission, which is an extra-cost option.
Every now and then, a Jeep buyer will need more grunt and low-down power than the normal V6 can offer. For them, the Jeep Gladiator will begin to offer a 3.0-liter EcoDiesel V6 engine producing 260 horsepower and 442 lb-ft of torque with Engine Stop/Start functionality. A new 8-speed automatic transmission is included to handle the extra torque the Diesel Jeep Gladiator engine produces.
Return To The Top
Jeep Gladiator - Attitude + Ability = Legend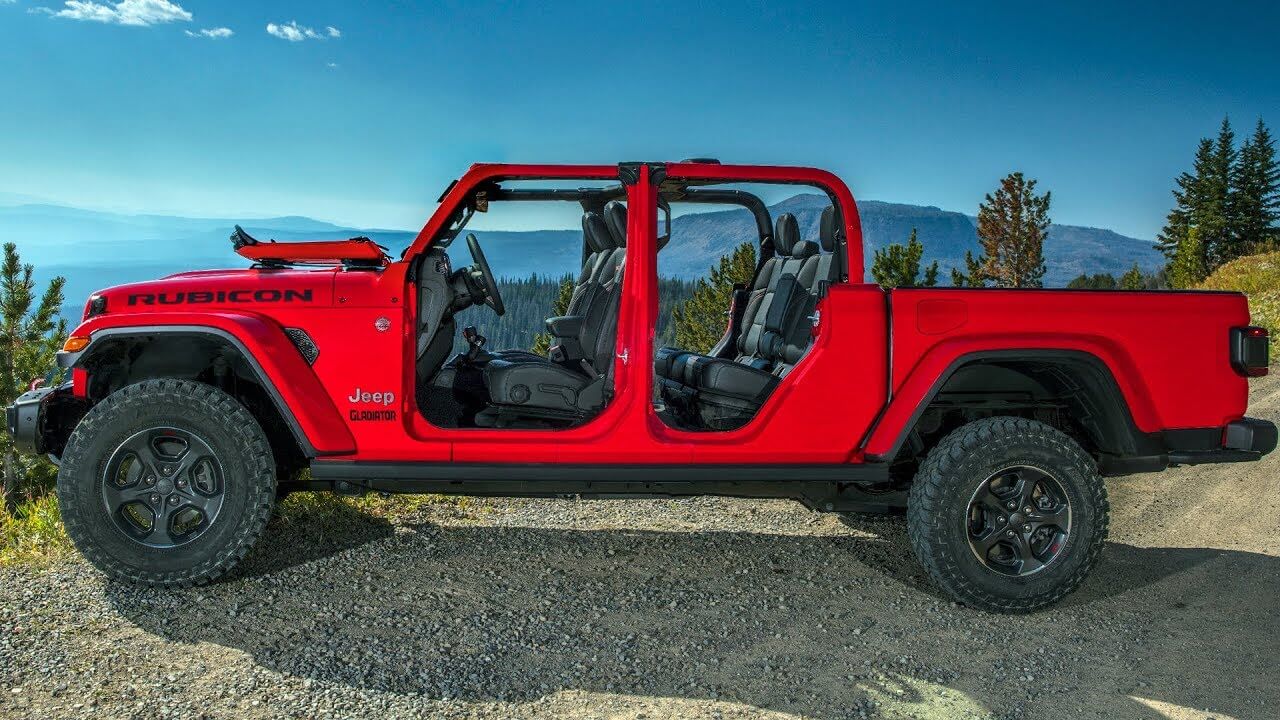 Every Jeep Gladiator from Napleton Jeep of Ellwood City, PA has it. By it, we mean the legendary Jeep status and can-do attitude that has helped the brand to build its reputation.
Combine this with the Jeep's industry-leading angle of approach and departure, ability to run through water 30 inches deep, carry 1,600 pounds of payload and tow up to 7,650 pounds, when equipped with the Max Towing Package, it's clear to see why nearly every Jeep receives the Trail Rated badge when it rolls off the assembly line in Toledo, Ohio, which has been home to Jeep for more than 75 years.
Adding this together, along with 75 available advanced safety and security features, makes it easy to see what a legend looks like. The Jeep Gladiator is a legend in the making. Browse our inventory and contact the sales professionals at Napleton Jeep of Ellwood City for a test drive and a chance to begin your legendary lifestyle today.